Guaranteed Healthy --> We do everything we possibly can to insure that all pups are healthy.

Worming --> Pups are wormed 3 times, at 2, 4, & 6 weeks of age.

Shots --> Pups are given a puppy vaccination (Vanguard Plus 5/L DA2PL+CPV) at 6 weeks.

Metronidazole, Albon, & Bordatella --> These are used as preventative medicines to help with stress, bacteria, and parasites in the stomach and intestines before the transition to a new home.


---
HEALTH GUARANTEE
The health of the puppy is guaranteed for 7 days from the date of delivery. The puppy is guaranteed for 28 months from time of birth for any genetic Hip Dysplasia.
A record of vaccinations will accompany each puppy. It is the buyer's responsibility to have the puppy examined and all necessary vaccinations administered by a licensed veterinarian within 7 days of delivery date of the puppy.
Should any confirmed health problems occur within 7 days of delivery, the seller is only responsible for the veterinarian charges not to exceed the purchase price of the puppy. This does not include shipping fee.
HIP GUARANTEE
If hips are found to be DYSPLASIA
Bar A Kennels will replace your puppy with a puppy of equal or greater breeding.
All problems must be documented by your veterinarian and confirmed by our veterinarian, and all registration papers returned before a replacement puppy will be provided.
This guarantee applies to congenital, hereditary defects.
Injury to the dog voids this warranty.
The following conditions must be met:
Pup has been registered with AKC by person who originally purchased pup

AKC registration name includes Bar A.

A copy of findings from OFA showing a certification of DYSPLASTIC must be sent to us for our records.

The dog must not have been bred.

A letter from your veterinarian identifying the microchip of the dog and that dog has been spayed/neutered

Dog's hips are x-rayed after reaching the age of 2 years and before the age of 28 months.

Microchip # must appear on all required documents.
---
SHIPPING & PICKUP
We prefer the puppies be picked up in person at 7 weeks of age. This gives us an opportunity to meet the new owner. We can also ship the puppy via air, to an international airport that accepts live cargo freight, within the continental United States for an additional charge of $350. We have shipped puppies all over the US --> Texas, Georgia, Tennessee, New York, Boston, Detroit, New Hampshire, Maine, California, Washington, Las Vegas, and Alaska. Full payment must be received before the puppy can be shipped.


For more information call or text 918-639-8009
Email puppy@barakennels.com
Thank you for visiting
Bar A Kennels
<<<------------------------------->>>
Doug & Kim Abbott
6248 W 430
Pryor, OK 74361
Bullet & Ripley's pup 'Shirley' makes the news!
---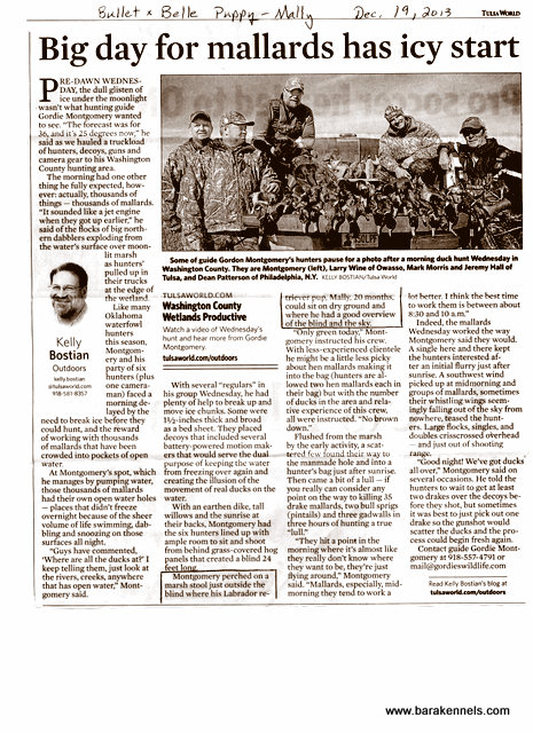 Bullet & Belle's puppy 'Mally' makes the news!
---